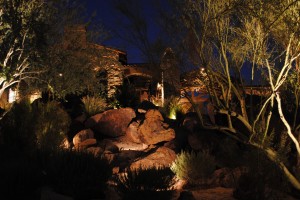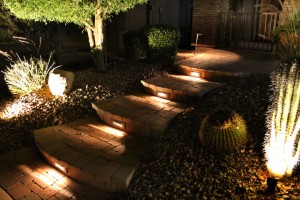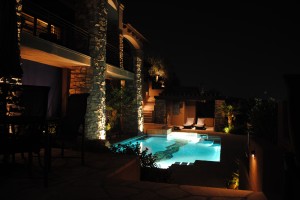 Our certified lighting specialists are some of the best in the business.
They understand how light works and how to manipulate the light in order to maximize your visual night time effects. We offer the highest quality lighting products and on-going service & support to ensure your complete satisfaction. Lighting or illumination is the deliberate use of light to achieve a practical or aesthetic effect. Lighting includes the use of both artificial light sources like lamps and light fixtures, as well as natural illumination by capturing daylight.
LANDSCAPE LIGHTING
Landscape lighting brings homeowners a return on their landscape investment. For too many homeowners busy elsewhere during the day, their landscape investment is returned only on weekends around the house. That loss of daily enjoyment is solved with outdoor landscape lighting by transforming darkened grounds into a welcome fantasy of light. ILE's landscape lighting crews are have many years of experience and the knowledge to ensure the best possible results from your lighting installation. We stock a full range of lighting materials such as fixtures, lamps and replacement parts. We not only service what we sell, but we can assist you with repairs or maintenance to existing systems installed by our competitors. There are many outdoor lighting techniques which Innovative Lighting & Electric, Inc. utilizes in order to create the best visual effects for your landscape. Below you will find a description of the various outdoor lighting techniques in which we use.
Accent & Spotlighting
A quick way to add drama to a landscaped garden. Position intense and focussed lights near the base of statuary or trees or near a surfaced wall or trellis. This technique is very compelling but should be used sparingly.
Cross Outdoor Garden Lighting
If your aim is to show off a beautiful statue or an old gnarled tree, you'll love the softly flattering light that is produced by cross garden lighting. To do this, position a spotlight on either side of the object you wish to illuminate, whether natural or man – made. The multiple beams of light produce softer shadows and reveal more detail.
Downlighting
Downlighting is recommended as an effective and affordable method for security outdoor lighting. To illuminate large areas position bright spotlights near the roof of your home. To light a pathway, mount smaller luminaires near the ground.
Path and Outdoor Lighting
There is perhaps nothing more beckoning that a well lit garden path. Place low level on either side of a path or or walkway. As an added benefit, path garden lighting provides a safe walkway and adds to your home's security.
Shadowing
If you have a tree or statue with a striking profile in front of a wall or other surface, shadowing may be a very elegant way to add some drama to your exterior. Place recessed luminaires in front of the object to create shadows on the surface beyond.
Silhouetting
The opposite of shadowing, this garden and outdoor lighting technique is equally as simple. Just position a recessed luminaire behind and below the object to create a spectacular silhouette.
Spread Lighting
If you've invested in landscaping your garden with flowerbeds and low shrubs, you'll want to enhance its nighttime appeal with spread lighting. To do this, position luminaires to illuminate low lying landscaping and ground cover.
Moon Lighting
If you have a medium to large size tree try placing one or two low voltage lights, pond lights with glare guards and frosted lenses works well, onto the second or third tier of branches and angle the light through. This will create an artificial moonlight effect and be very subtly at the same time as casting light interestingly over the area below.
Uplighting
If a canopy of branches covers your garden, try this technique, place recessed garden and outdoor lighting luminaires in the ground and angle the lamp upwards. The illuminated branches or architecture will provide an interesting point of visual interest and reflect a soft light onto your garden and patio.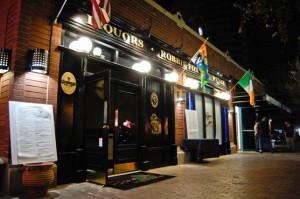 BAR LIGHTING, TEMPE AZ
ARCHITECTURAL LIGHTING
The objective of architectural lighting design is to obtain sufficient light for the purposes of the building, balancing factors of initial and operating cost, appearance, and energy efficiency. Lighting designers are often specialists who must understand the physics of light production and distribution, and the physiology and psychology of light perception by humans. Architectural lighting design is generally concerned with the permanent illumination of a structure.
Architectural lighting design focuses on three fundamental aspects of the illumination of buildings or spaces. The first is the aesthetic appeal of a building, an aspect particularly important in the illumination of retail environments. Secondly, the ergonomic aspect: the measure of how much of a function the lighting plays. Thirdly is the energy efficiency issue to ensure that light is not wasted by over-illumination, either by illuminating vacant spaces unnecessarily or by providing more light than needed for the aesthetics or the task.
Each of these three aspects is looked at in considerable detail when the lighting designer is at work. In aesthetic appeal, the lighting designer attempts to raise the general attractiveness of the design, measure whether it should be subtly blended into the background or whether it should stand out, and assess what kind of emotions the lighting should evoke. The functional aspects of the project can encompass the need for the project to be visible (by night mostly, but also by day), the impact of daylight on the project and safety issues (glare, color confusion etc.).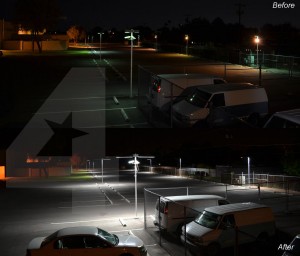 PARKING LOT AREA LIGHTING
AREA / SECURITY LIGHTING
Whether it is for your home or business, area lighting provides sufficient lighting to perform work at night as well as provide a safety feature. Area lighting, such as that for parking lots, is only effective when it can illuminate the entire area and eliminate the hazards that darkness brings. Location, luminosity and energy usage are the main components that ILE targets when installing or renovating area lighting.
Besides full area lighting, we also provide sensor security lights. These types of lights are effective for the areas that are not often visited during the evening, but need to be illuminated should the homeowner or a trespasser be in the vicinity.
SCONCES & DECORATIVE LIGHTING
A popular element for outdoor lighting is sconces, commonly seen placed adjacent to the garage and front door of homes or near entry ways of businesses. Sconces not only add a decorative touch to the facade of any building, but also provide a guiding light to entry ways. This type of lighting also provides a safety benefit, being able to illuminate your home when away and ward off unwelcome visitors.
Innovative Lighting & Electric will assist you in finding the light fixtures that are perfect for your home or business. Then alongside our licensed electricians, we will make sure the installation of your lighting fixtures and the end result are nothing less than superb.