Monsoon Season & Electrical Outages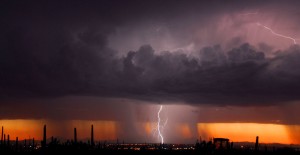 Arizona's monsoon season is here! This season can range from June 16th – September 13th with large storms usually starting mid-July.   During Monsoon Season you can almost guarantee a power outage, whether it's from lighting or a dust storm.   Here are some tips from www.monsoonsafety.org and SRP® to help get you through a storm and back on track.  Electricity from lightning can travel through the wires in your home and damage important home office equipment. If you experience a complete or partial power outage during a monsoon, take the following steps
During a storm it is best to turn off and even unplug all major appliances, including your computer, TV, phones, and other media equipment. This will help restore power more quickly while protecting your equipment from voltage fluctuations and circuit overloads when power returns.

Turn off the A/C and all lights except one to indicate when the power has been restored. When power is restored, wait a few minutes before turning on lights and appliances — turn them on one at a time.

Make sure your office equipment is properly grounded. Power disturbances can affect computers and other microprocessor-based equipment that depend on a constant voltage supply. An improper ground can cause your equipment to malfunction or fail.

Reset circuit breakers to see if the problem is a short-circuit in your home's electrical system. If other homes in your neighborhood are dark, the problem is likely a power outage. Check for "blown" fuses or make sure your circuit breakers are in the "on" position. Also check the main breaker; turn off and then turn on to reset the main breaker.
If you find yourself uncomfortable with step 4 and/or are unsure of what to do in any electrical situation always CALL A PROFESSIONAL.  
Innovative Lighting & Electric is offering special pricing for electrical issues due to storms until the end of September!
Please call our office for details (480) 513-2099