Lighting Techniques – Proper Wiring for Large Outdoor Landscaping Projects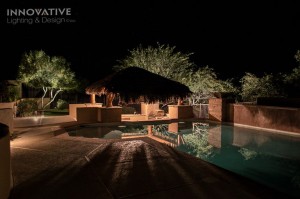 Low-voltage outdoor exterior lighting can not only improve the look of your landscape, it can also make your property more secure. Exterior lighting is somewhat safe to install as a do-it-yourself job because most systems operate on 12 volts. Regardless of the lower voltage, standard precautions should always be taken including wearing insulated gloves and turning off the power when working.

To start, you will need to write out your exterior lighting wiring layout on paper and plan for the size of transformer that you will need. Start by creating a basic diagram of where you want to place your exterior lighting fixtures, and list the bulb wattage of each fixture. When designing the exterior lighting scheme try to keep the total wattage of a run less than 100 watts to avoid a voltage drop. Keep in mind that the farther that your exterior lighting fixtures are away from the transformer, the dimmer that they will be.
There are three main components that you need to purchase along with the appropriate tools: low voltage cable, a transformer, and the exterior lighting fixtures. You should add up the total bulb wattage of the layout and multiply it by 1.3 to get the size of transformer that you will need. For your wiring length you will also need to multiple the wiring distances on your diagram by 1.3 to get the approximate amount of wire you will need. You might consider buying a larger transformer than what you need, that way you can add more exterior lighting fixtures down the road.
Powering the system requires plugging the transformer into a GFCI protected outdoor outlet that must have a "while in use" cover, and the transformer will need a cover as well. A 12 gauge cable should be used on most runs. Do not place your exterior lighting fixtures within 10 feet of water unless they are waterproof. The exterior lighting fixtures that you choose should be appropriate for the area that you are lighting: waterproof lights should be used near water, flood lights should be used for large elements like trees, and so on.
You will need to dig with a flat nosed shovel to lift up sod along the areas that you need to cover your wiring. You should ask your utility company to mark the location of underground wires and pipes before you dig to avoid a dangerous accident. Covering the wires should be the last step of the project after everything else is completed. If it is a first time project, it is best to have an experienced landscaper help you with your exterior lighting installation.