Is the installation disruptive to my yard and landscape?
No disruption. If trenching is required across the lawn, a small incision is made about 6-8 inches deep, the wire is placed inside, and the grass folded over top of it. As long as the proper water is applied, there should be no damage to the lawn. In the dirt areas, the wire is buried 6-8 inches deep. Where there is mulch, the wire is placed just under the mulch, for ease of seasonal mulching and landscaping.
How long does it take to install?
Most systems take about an average of 2 to 5 days to install. The installations can usually be scheduled a week after the proposal is accepted.
How is the lighting system controlled?
A timer, located inside the transformer or a photocell located outside the transformer controls the system. It is set to your desired on/off times and can be manually overridden with a flip of a switch. We also offer an upgraded timer that is placed inside your home for added convenience.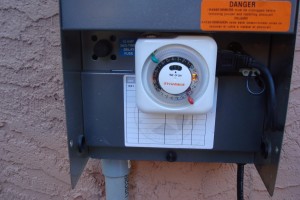 What is the warranty on the lighting system?
Our warranty is under an unmatched, unprecedented Lifetime warranty on the wire , fixtures and the transformer.
75% to 80% of our clients' installations range from $6,000-$12,000. This includes the fixtures, the transformer, the labor and installation materials, and the warranty.
What are the benefits of LED lighting verses incandescent?
LED lamps use 2-4 watts compared to the 20- 50 in conventional incandescent bulbs, which has a dramatic impact on energy consumption. Incandescent bulbs also only have a life of 2,000-5,000 hours whereas LED lamps last 25,000 hours plus. So not only are you reducing your energy costs, maintenance and replacement costs are much lower.
What areas of the valley do you service?
ILE works all over the Phoenix Metro Area. Our lighting specialists and licensed electricians serve Scottsdale, Cave Creek, Paradise Valley, Phoenix, Tempe, Mesa, Chandler, Glendale, Peoria, Fountain Hills, and Gilbert.
Do you do commercial buildings?
Yes. We have worked with many home owner associations and businesses across the Valley. From installation and renovation projects to maintenance plans, Innovative Lighting & Electric can provide your property with superior lighting and electrical services.
How does lighting impact a property?
Landscape lighting serves several purposes. It accents the details- as intended by the landscape architects- such as entrances and exits, makes common areas safer and more easily accessible, revamps the aesthetics of the property, and the overall functionality of the grounds. Your property's presentation during evening hours should be inviting and operational. A tailored lighting design sets apart properties and their residents.
How do maintenance plans work?
Depending on which maintenance plan you choose, an ILE technician will come to your property and inspect all of your fixtures for maximum performance at a scheduled interval. We will clean each fixture, replace bulbs as needed, aim and focus each fixture to their proper position, as well as do minor electrical work to ensure the system is working efficiently. This service helps to keep your lights shinning bright as well as ensuring the efficiency and longevity of your lighting system.
Where is outdoor lighting most important?
As specialist in our field and experienced contractors, we identify the areas of your property that are most visible, identifiable and frequented. Maintaining the lighting in these areas ensures the safety and satisfaction of you, the residents, and all visitors.
What electrical services do you provide?
ILE provides electrical services for both residential and commercial properties. These services include troubleshooting electrical issues, tenant improvement work, wiring installation, and installation/remodel of outlets and switches.